Okay allow yourself at least three hours for this... to go from start to finish
okay first make sure you have everything!
Then DISCONNECT THE NEGATIVE BATTERY CABLE!!!!!!!!!!!!!!!!!!!!!!!!!!!!!
Next take out the drivers side fender liner... also i would HIGHLY recommend you just take the freakin tire off! unless you want it in the way all the time!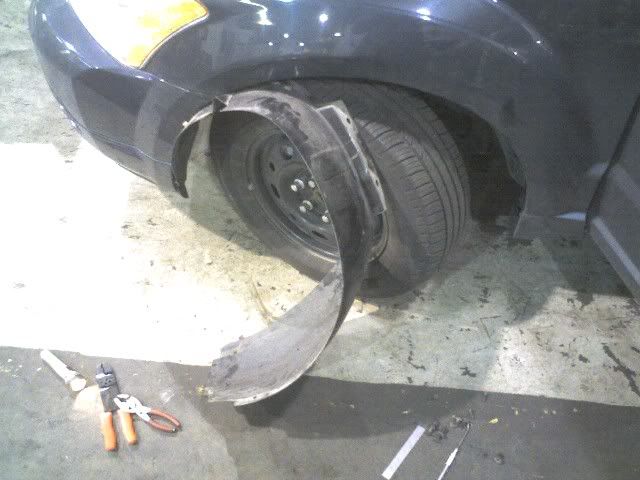 Now if you look in the wheel well towards the passenger compartment you'll see this bad boy.. Pull the grommet out towards you.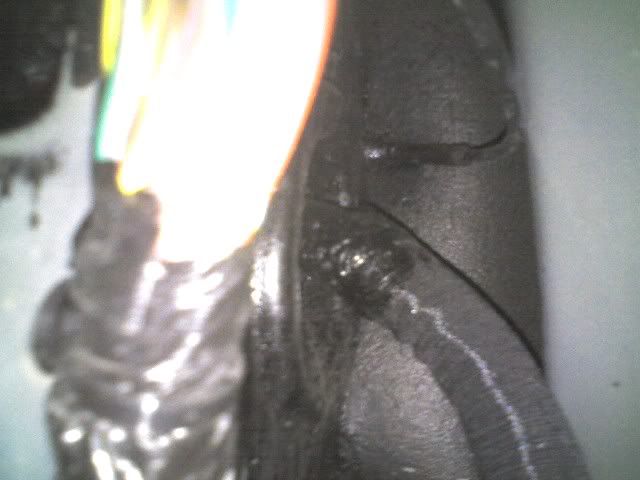 This gap is between the outter fender and the inner fender... as viewed from under the hood... its a pretty big gap, plenty of room for 4ga wire...
This is just a tip... to crimp big wire connectors i use a vise...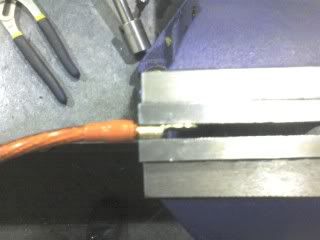 Now go inside the car and pull the trim from the kick panel all the way back! Some genius decided to interlink everything so if you want one part out you pretty much have to pull it all anyway....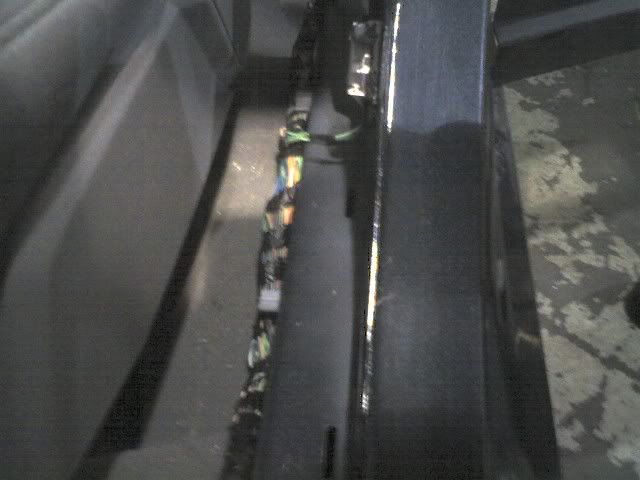 Okay now run your wire through the gap pictured above then through the grommet, this is incredibly difficult (it took nearly 30min just to get through the thing)especially with the damn tire in the way! once its through pull some length through then feed it into the passenger compartment. now push the grommet back into the car..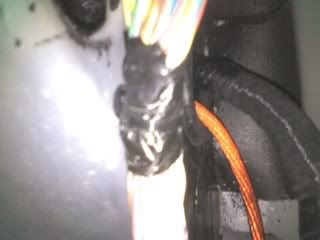 This is where the wire comes in the car... mid way up the body behind the kick panel.. and it can be a bit tough to get your hands on but you'll get it! also theres a lot of foam in the way... it moves easy enough but is kind of a pain..
Then you can put the wheel well liner back in and finish your connections under the hood... NOTE the fuse is not in the holder!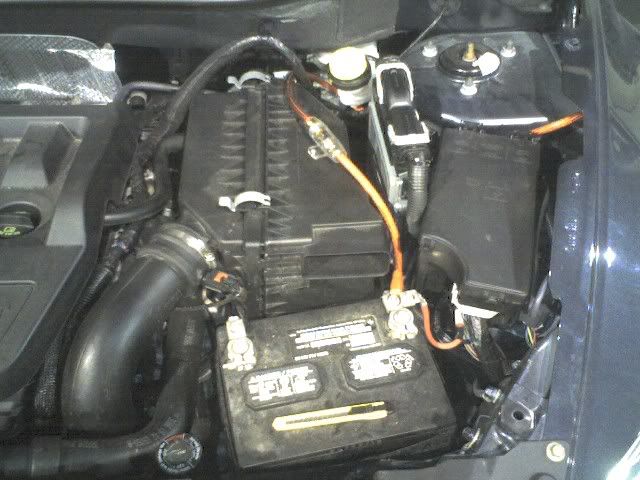 NOTE FOR 1/0ga there is room behind the headlight to get under the wheel well and there is lots to secure the wire to! so you can use this same method just dont go through the gap as i did....
This is my back seat at the moment i have to take the actual backseat out to run the wires the way i want to... so ill have to finish it up tomorrow also you may notice there is no freakin remote wire!!!!!!!!! So i have to redo all of this tomorrow with the remote wire... stupid stupid Justin!!!!!!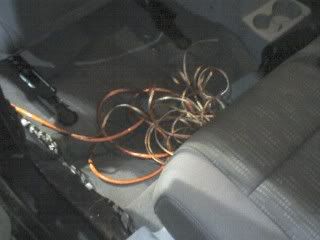 And thats all there really is to it... just put all the trim back in place and be sure the wire is secure... there is lots of room to run it under the trim and its also easy to get under the carpet aswell...
Ill finish things up tomorrow with the wiring then we can learn to build a slot ported box together
also if anyone could get me a diagram of the fuse box that would be great! i never got an owners manual... so i dont know what any of the fuses are....