Discussion Starter
·
#1
·
1 Pick-Up into a tree on SR 1002 about 1/2-3/4 of a mile from SR 1001. Chief 1-A arrived on scene first and stated pt assessment. Before apparatus arrived on scene, the vehicle shifted and started rolling through a yard towards a house and a parked vehicle in a driveway. It came to rest when it struck a tree with the opened passenger side door, without striking any other structures or vehicles. There was also a fire danger due to the compromised fuel tank.
3 juvenile male patients: PT#1 - leg injury, PT#2 - arm injury, PT#3 - head injury.
All 2 PT's transported BLS via A1-11, 1 PT transported ALS via A1-9. All PT's transported to Tyler Memorial.
Vehicle was towed by Phil's Auto Body, PSP Tunkhannock investigated.
I'm not too sure on many details, maybe someone else that was on the call will chime in...
Units on the call:
Ambulance 1-09
Ambulance 1-11
Rescue 1
Engine 7-2
FP 7 & 7-20
Tyler 601
PSP Tunkhannock
Plus numerous Station #1 & Station #7 members.
Here are some pix... Sorry for the quality, they were taken with my cell phone.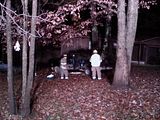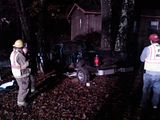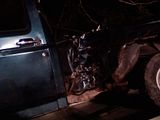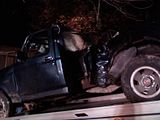 There is about 3 feet of intrusion on the bed, plus the rear axle was shifted. Obvious serious frame damage. The funny thing is that the rear window never shattered. You might be able to see in a few pics that the rear window is only being help by the weather striping on the top center of the glass. The glass is actually popped out of the rear of the cab.