I Can't see any of the pics posted in here, so I'll make a short update and add the rear brake as well.
FRONT CALIBER:

Loosen the bolts and then turn the caliber from side to side in order to push back the piston enough to get the caliber off.
Hang it properly in order not to destroy the brakelines.
Remove the last part containing the pads, it has two bolts on the inside.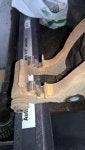 I Cleaned it with a steelbrush, and then greased the parts where the pads slide. I used a
thin
layer of copper grease.
I used a special tool to press back the piston, then greased the edge of the piston and the other side of the caliber that has contact with the pads. Again a
thin
layer of copper grease.
Installed the Rotor and the part containing the pads. Mount the part with the pads again with the bolts and then press the pads to the disc using the fingers.
Refit the caliber and then re-grease the sliders.
Dont forget to apply new grease. I used acid-free grease. This will ensure that the pads come back when you are done braking. If no or to little grease, the pads will stay at the disc and get worn.
Jobs done and the next wheel is ready